Stepping Into The Unknown: The work & legacy of Margot Nash
One day conference and celebration
Please join us this December 6th and 7th at the University of Technology Sydney, as we celebrate the work and legacy of Margot Nash. Retiring from her role as a Senior Lecturer in the School of Communications at the University of Technology Sydney, this celebration and one-day conference will be a retrospective look at Margot's work, and the legacy she has established as a prolific feminist filmmaker.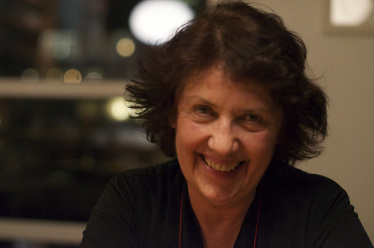 ---
Margot Nash
An award winning screenwriter and director with a background as a cinematographer, a film editor and an actor. She holds an MFA from UNSW. Her research topic was: The research, writing and visual preparation for a feature film. Her credits include the feature dramas Vacant Possession (Wr/Dir, 1994) and Call Me Mum (Dir, 2005), the feature documentary For Love or Money (co filmmaker, 1983) and the experimental shorts Shadow Panic (Prod/Wr/Dir, 1989) and We Aim To Please (co filmmaker, 1976). Margot has worked as a consultant and mentor for Australian Indigenous filmmakers and between 1996 and 2001 worked in the Pacific running documentary workshops for Pacific Island women television producers. Since joining the Creative Writing area at UTS in 2000 Margot has published on the uncertain nature of the film development process, subtext and shadow narrative and the uncredited screenwriting work of Australian silent screen star and cinema pioneer Lottie Lyell. In 2015 Margot's personal essay documentary The Silences screened at national and international film festivals and was released nationally in selected cinemas. In 2016 she won an Australian Writers' Guild AWGIE Award for the screenplay.
For more information about Margot and her work, visit: www.margotnash.com/
---
Program
Thursday 6th December
A Night of Celebration
Location: Bon Marche Studio, UTS, Building 3, Level 1, 732/718 Harris St, Chippendale NSW 2008
Friday 7th December
Conference
Location: Bon Marche Studio, UTS, Building 3, Level 1 732/718 Harris St, Chippendale NSW 2008
Drinks, Screening and Closing Remarks
Location: Palace Cinemas, 3/28 Broadway, Chippendale NSW 2008
---
Panelists
Dr Sarah Attfield
Sarah is a Scholarly Teaching Fellow in the School of Communication in the Faculty of Arts and Social Sciences. Her scholarly work is focused on social class in popular culture and literature, particularly the representation of working class life. She has published work on UK grime, dubstep and hardcore punk as well as on working class poetry. She is also a poet and her work has been published widely in Australian literary journals and she has performed her poetry in a variety of venues across Australia.
Professor Craig Batty
Professor Batty is a well-published author, with over 70 books, book chapters, journal articles and creative research works, as well as many industry articles, book reviews and interviews. He has also guest edited 10 journal special issues. Professor Batty has also worked on a variety of screen projects as a writer and script editor, and is a regular speaker and consultant on screenwriting, creative practice research and doctoral training. In 2016, he won an Australian Award for University Teaching Citation for his work with creative writing PhD candidates, and in 2017 won the RMIT Vice-Chancellor's Award for Research Supervision Excellence.
Claire Corbett
Claire Corbett was born in Canada and has worked in film and government policy. Her first novel, When We Have Wings, was published in 2011 and shortlisted for the 2012 Barbara Jefferis Award and the 2012 Ned Kelly Award for Best First Fiction. Her recent fiction and essays have been published in a range of journals, including The Best Australian Stories 2014/2015, Griffith Review, Southerly and Overland.
Dr Natalie Krikowa
Natalie Krikowa holds a Doctor of Creative Arts in media and cultural studies from the University of Technology Sydney. Her doctoral thesis (supervised by Margot Nash) was a creative practice inquiry into transmedia storytelling that interrogates the queer voice in contemporary popular and participatory culture. Natale currently teaches and researches in media (screen, digital and transmedia) with a focus on participatory culture, queer representation, and genre studies. She is also the creative director of Zenowa Productions, with previous writing and producing credits including The Newtown Girls (2012) and All Our Lesbians Are Dead! (2017).
Sarah Mould
Sarah Mould holds a first class Honours degree from the University of Technology Sydney, under the supervision of Margot Nash. Her creative thesis investigated the allegorical capacity of the science fiction genre in extending the boundaries of representative female experience through five short films and cyberfeminist prose. She is also a published poet and is currently working as an advertising copywriter on a range of commercial and social change clients.
Dr Alex Munt
Alex Munt is a screenwriter/director and media-arts academic at UTS. He works across feature film, photomedia and artist moving image work. He has a background in architecture and design. Alex teaches in the Media Arts & Production and has lectured on visual art, design, photography, screenwriting, film and media arts for over 10 years in Sydney. Alex is the Higher Degree Research Coordinator for the School of Communication, in the Faculty of Arts & Social Sciences at UTS.
Associate Professor Heidi Norman
Heidi Norman is an Associate Professor in Social and Political Sciences in the School of Communication. She researchers and publishes in the areas of NSW Aboriginal history and politics with a particular focus on land and its management and the Aboriginal administrative domain. Her most recent work is a study of Aboriginal Land rights in NSW (published in 2015). This work is a critical account of the interface between the Government's construction of Aboriginal interests in land and the emerging governance of those land and interests by Aboriginal citizens through their land councils. Her new area of research is focused on Aboriginal people's interests in pursuing land management and cultural aspirations on their land, alongside imperatives to pursue economic development.
Marlee Silva
Marlee Silva is a 23 year old proud Gamilaroi woman who was born and raised on Dharrawal country in the Sutherland Shire, south of Sydney. She has recently completed her honours in Creative Writing at UTS, under the supervision of Margot. Her feature length film script 'Biyani', tells the story of Tallah, a teenage Aboriginal woman who is forced to grow up fast and fight to keep her family together in the light of tragedy. Marlee's accompanying research focus was centralised around reconstructing the representation of Aboriginal and Torres Strait Islander women on screen so they better reflect the matriarchal leaders she knows them to be in her reality. She is also a published short story writer having been featured in Anita Heiss' anthology 'Growing Up Aboriginal in Australia' and a poet.
Dr Jeni Thornley
Jeni Thornley is a documentary filmmaker, writer, film valuer and lecturer. She is currently an Honorary Research Associate in the School of Communication, Faculty of Arts and Social Sciences, UTS and developing an archival film project, memory=film based on her super 8 archive (1976-2003); this collection was recently acquired and digitized  by the National Film & Sound Archive (NFSA). Jeni's widely distributed, award winning films include: Island Home Country (2008), To the Other Shore (1996), contributing director Australia Daze (1988), co-director feature film and Penguin book: For Love or Money: a history of women and work in Australia (1983) and Maidens (1978).